The Laura file in the FILMNOIR database
(click to see a close-up)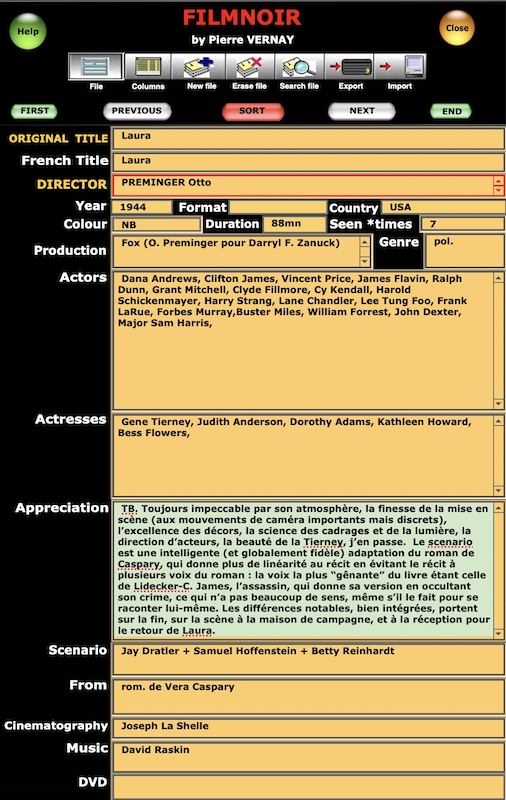 Film noir atmosphere
(flash format, flashplayer version 9 and + required -download here-, + a bit of patience...)

Introduction
FILMNOIR presents some 1100 films of the film noir, thrillers, detective or gangster film genre : A and B films, from the silent era till now, productions from the USA mainly, but also from England, France, and the rest of the world.
All the files of this film database can be sorted by numeric or alphabetic order (director's names, actors names and so on) in order to analyse a filmography, for instance.
It can be used on any type of computer (Mac, PC, iPhone or iPod touch), or on a palmtop, as long as you have a datasheet (Excel for instance) or a database program.
The version distributed here is not a trial version, but a subset of the complete movie database. In fact it is the first third of the files, including the Directors from A (ALDRICH Robert) to F (FURIE Sidney J.) only. Those interested in the complete version, from A to Z, should read the "Diffusion" page.
All the informations about film noir for the moviegoer
that you can classify by : director, producer, actors, scenario, cinematographer, musical score, movie poster, filmography, etc.
Presentation
As such, this movie database is obviously not complete, that is it doesn't cover the thousands of films which have been produced by the cinema only. It is exclusively made of the films I have seen... a good number I must admit, and certainly the most interesting part of the genre.
It corresponds to the great pleasure I've had all these years watching what is for me the second major genre of cinema (my favorite genre being the Western, definetly).
FILMNOIR is in fact, as WESTERNS is, a subset of a hugger database (more than 9400 films), called CINEFAN, which covers all types of movies from the silent screen till now.
Neither FILMNOIR nor CINEPHIL are completely free, they both are sharewares, but if you buy CINEFAN you get FILMNOIR and WESTERNS for free, for it is included in it.
FILMNOIR costs 10€,
WESTERNS costs 10€,

CINEFAN costs 15€.
Make your choice !
FILMNOIR does contain a number of errors (typing, spelling and probably incorrect names), but I try to improve it everyday through my re-visions or my discoveries.
There remains the problem of my personal findings (for those who are interested in translating them from the French original, of course...) ; now it's up to everyone of you to use it in such a way you choose or need.
History and statistics
This database was started in the years 1967-68, on the seats of the French Cinémathèque. So many marvelous discoveries then ! Chatting with Henri Langlois in a corner of the bar, listening one evening to Raoul Walsh relating his escapades with Flynn or Gable around Hollywood, discussing endlessly with some "co-religionists". Those were the days for the "cinéphile"...
Then came the time for computers, which allowed me at last to compile all my documentation and memorize it in a single database.
As it is, this film noir database consists of some 1100 films, starting with the silent era.
As said above, they are all part of the CINEFAN database, which contains more than 9400 movie files, and some:
- 6000 US films,
- 2000 French films,
- 600 British films,
- 500 Italian films,
- 70 Japanese films,
- etc., from the silent era up till now. If you are a western movie amateur, please note that WESTERNS covers 1300 films of the genre !!! This is unique !
Here is a list view of FilmNoir of the Laura file in the FILMNOIR database (click to see a close-up):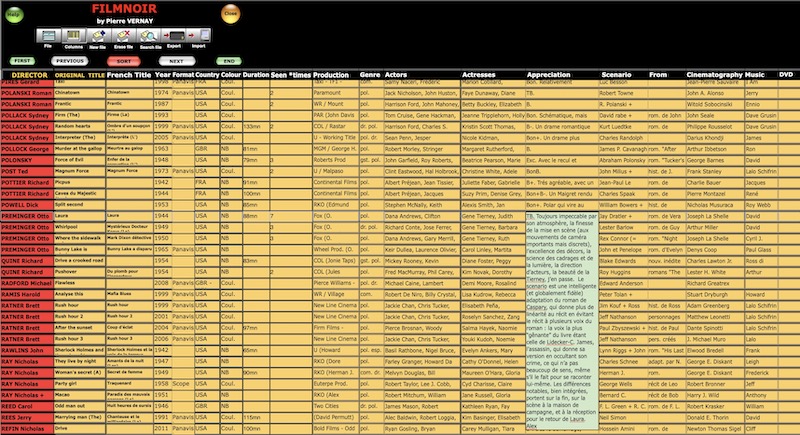 Poster slideshow
(flash format, flashplayer version 9 and + required -download here-, + a bit of patience...)

Some opinions from enthousiastic users of the Cinefan database (some translated from the French):
- "Congratulations for the job you've done. Such a database is a dream come true for an amateur like me"
- I thought your database was quite adapted to be used as a first rate "dvdtheque"
-"Bravo for the colossal work you've done"
- "Congratulations for your work"
- "Big thanks for your admirable work"
- "Your database is quite complete and clearly indicates a huge work ! Congratulations for this incredible work".
- "Thank you for the follow-up. Great customer service".
- "Thank you very much for delivering such a magnificent database. It is very very interesting."