Pictures slideshow
(flash format, flashplayer version 9 and + required -download here-, + a bit of patience...)
Installation and working with FILMNOIR on a Mac, a PC, an iPhone or iPod touch or a PDA.
You should have found the classic film noir database in a zip-compressed format, and if you are reading this text, you must have already expanded it ! The movie database is delivered in .txt (database) or .xls (Excel) format.
- the .TXT format can easily be imported (while precising 'Tabulation" in the option menu) in a newly created sheet in any basic Datasheet program (Excel for instance, or the datasheet program of the free suite Neooffice) or in a new file created with a Database program (FileMaker, Access, or the free Base software from OpenOffice.org, etc.).

- the .XLS format opens directly with Excel.
- I propose with my film database a specific FileMaker Template (layout) ; you just have to open this template from the FileMaker program (providing you have it, of course !), and import the database within this file, still precising the "Tabulation" format. Those who do not have this FileMaker software can download a trial version of the latest FileMaker V.11 for Mac or PC (Mac OSX , and Windows Vista, 2000 & XP) on the FileMaker site.
- When you have the software installed, "open" my FileMakerTemplate (expanded of course with the appropriate utility). Then "Import" my Filmnoir.txt (also expanded), specifying Tab format. Here you are... enjoy, and adapt it to your needs and tastes.
- If you already have the FileMaker software, you can download the demo version of FILMNOIR directly in the FileMaker (V.8) format.
Here is what you should get on your PC after installing FILMNOIR :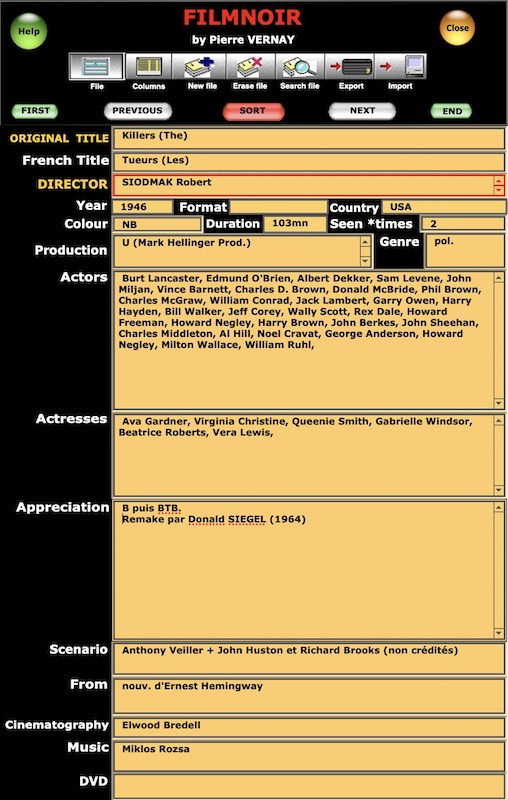 All the informations about classic film noir for the moviegoer, that you can classify by :

director, producer, actors, scenario, cinematographer, musical score, movie poster, filmography, etc.
For those who can't use my FileMaker (V.7) template or the FileMaker demo, or who would like to make up their own template, here is the list of fields to be created in any database software, before importing the FILMNOIR file :
- Original Title :

- French Title :

- Director :

- Color / Format :

- Year / Country :

- Seen * times / Producer :

- Actors :

- Actresses :

- Notes :

- Scenario :

- Based on :

- Cinematogr apher :

- Musical score :

- DVD :
With an iPhone and an iPod Touch, you now have Bento for iPhone and iPod touch, which handles any database.
Film noir atmosphere 2
(flash format, flashplayer version 9 and + required -download here-, + a bit of patience...)