Photos
slideshow
flash format, flashplayer version 9 and + required -download here-, + a bit of patience...)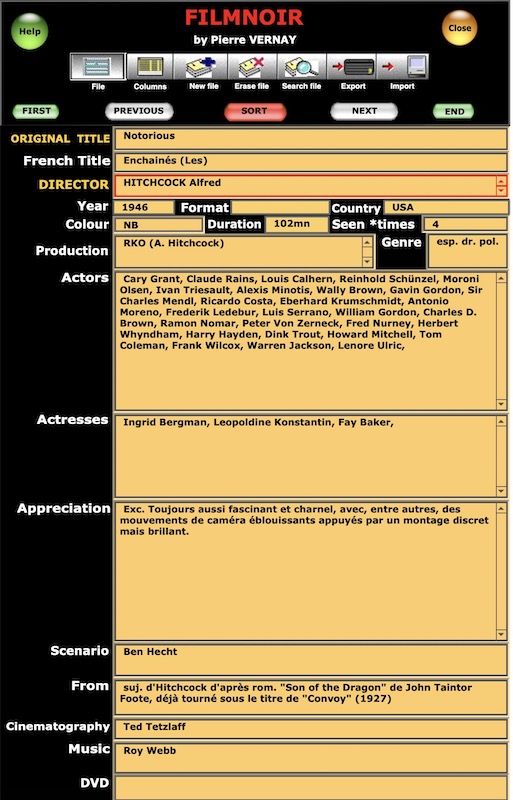 The integral FILMNOIR, WESTERNS or CINEFAN film database may not be distributed freely or used for commercial purposes, for their rights are reserved. Buying it at the conditions here mentioned is only valid for individual, personal, non-transferable and non-commercial use.
Any company (site editor for instance), organism, etc., willing to buy FILMNOIR or CINEFAN movie database for commercial or promotional use, etc., should inquire for a specific license contract.
On the other hand, the first part of the base (Directors from A to F, i. e. the shareware section) may be distributed freely, either through an on-line service, a CD compilation or any other future medium, under the express condition that it is my untouched original version.

Updates to come will be found here as regularly as possible.
Film noir atmosphere 4
(flash format, flashplayer version 9 and + required -download here-, + a bit of patience...)

All the informations about thriller movies for the moviegoer

Director, producer, actors, scenario, cinematographer, musical score, movie poster, filmography, etc.
Buying FILMNOIR
The creation of the FILMNOIR movie database (or WESTERNS and CINEFAN) has taken, as one might imagine, a lot of work, often enjoyable, sometimes fastidious.
FILMNOIR is a 10€ (Euros) shareware,

but remember you can get
the whole CINEFAN database,
including FILMNOIR and WESTERNS,

for only 15€ (Euros).
Anyone interested in the complete FILM NOIR database can :
- buy it through PayPal
- or contact me

, then send me the money in the form of a check to my name or a money order. I will not assume any responsibility if you send cash, because it is theoretically forbidden by French law, it is not always safe and I can't guarantee reception.

After receiving your payment, I will give you access to the complete and latest version of my database (in compacted zip form) through download or E-mail (don't forget to give me the right address when you pass the order).

You will also have to specify if you want it in .TXT format (for Macs, PCs, iPhones and PDAs), .XLS (for Excel), or even in FileMaker format with, as a free bonus, a special layout.